TASKING Compiler Qualification Kit
The TASKING compiler qualification kit provides tool-specific evidence required to support the tool qualification methods "development in accordance with a safety standard" and "validation of the software tool." This kit contains a Safety Manual which includes:
The Software tool qualification report

This safety manual describes how TASKING has qualified the toolset. It covers all topics that have to be addressed in the "Software tool qualification report". Therefore it is not needed anymore to create this document yourself.

Guidance how to create the Software tool criteria evaluation report

The "Software tool criteria evaluation report" describes how one uses the toolset in a specific environment and this toolset usage shall comply with the detailed guidance given in this safety manual.

Defect reports & mitigations

Malfunctions reported by customers or revealed through TASKING internal testing including issues found after the release of the toolset are published together with a safety assessment, safeguards, avoidance or workaround measures for the issues.
Test reports

Test results produced by the Perennial C Compiler Validation Suite (CVSA) test suite – the most comprehensive and thorough C compiler conformance validation suite available – demonstrate conformance to the ISO C99 language standard ISO/IEC 9899:1999.

Development process, usage and release history

The software tool release history, including issues fixed and the tool's usage for the development of safety relevant software, is documented. Additionally the quality control and verification process is described.
TASKING VX-toolset TriCore/AURIX certified by TÜV Nord
The TASKING VX-toolset for TriCore/AURIXTM has been certified for the development of safety critical software applications by safety experts from TÜV-Nord. The TriCore compiler toolset meets the highest levels of tool qualification specified in the ISO 26262 Automotive functional safety standards.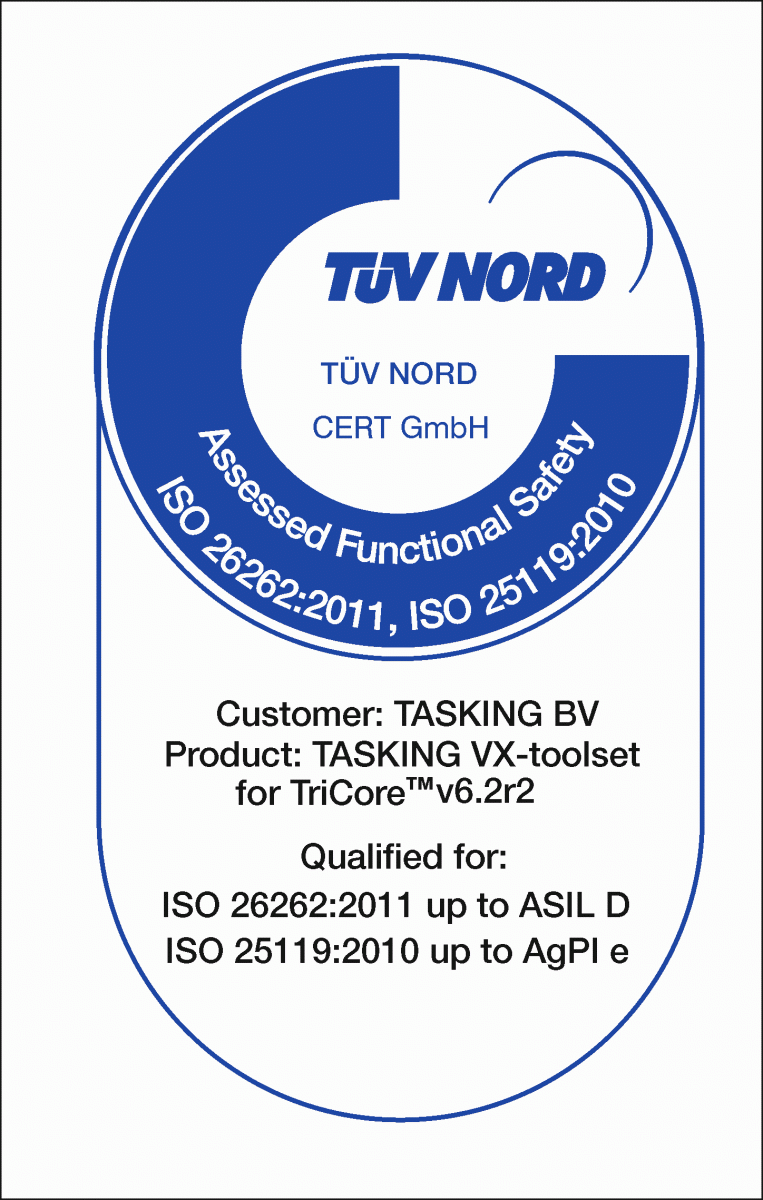 TÜV confirmed the TriCore tools are suited for development of highest safety integrity level ASIL D and covers tool confidence level TCL3. The toolset also satisfied tool qualification requirements of safety standards EN 50128 (Railway applications) SIL 3, and ISO 25119 (Tractors) safety level AgPL d.
The TÜV certificate is available for download here. The associated TÜV Assessment-Report can be obtained via your TASKING sales contact, and is free of charge for customers with a valid TASKING Compiler Qualification Kit license.
The certification enables customers to use the toolset for the development of safety critical applications without any further qualification activities when following the recommendations described in the safety manual. This highly simplifies and accelerates the certification of your system.
TASKINGs Development Process ASPICE Level 2 Compliant
TASKING VX Compiler Toolsets are developed using a ASPICE Level 2 compliant process. This simplifies and accelerates the certification of your system by allowing you to use the least laborious qualification method that is suited for the ASIL of your system.

TASKING Processes have been assessed at ASPICE CL2 ("F" denotes Fully achieved)
Higher ASIL levels require additional qualification evidence which is included in the TASKING Compiler Qualification Kits.